NaviSuite Kuda offers the optimal tool for hydrographic projects. The bundled software products cover the entire workflow, from the collection of raw data to data visualisation and analysis, and will streamline your projects through increased efficiency and improved results.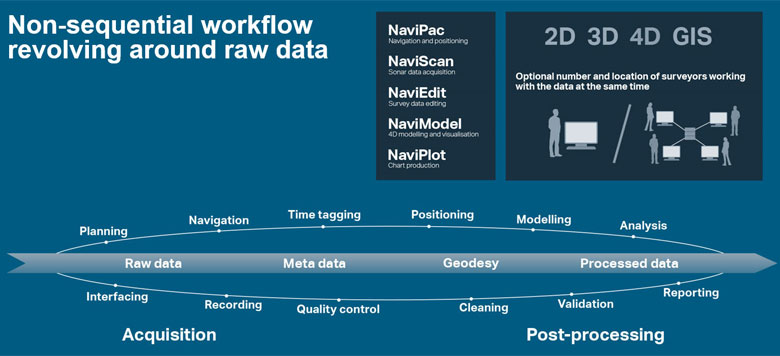 All national hydrographic offices (that is, organisations representing a country) can now benefit from this advanced acquisition and processing software suite with a special offer for a free licence.
This will include the most advanced variant of NaviModel for data modelling and visualisation. If you carry out surveys yourself, products such as NaviPac for navigation and positioning as well as NaviScan for sonar data acquisition will also prove relevant to your workflow.
We are confident that with this opportunity to dive into the NaviSuite world, you will see the value of including the software suite in your hydrographic toolbox – and of your survey providers being able to hand over deliveries in the formats offered by for example NaviModel.
What the special offer includes
All national hydrographic offices get a NaviSuite Kuda Pro + Processing annual subscription licence for free, which you can install for use in the office and/or on board one of your vessels. The products included allow for both data acquisition and post-processing.
The licence comes with full support in terms of access to our help desk and new versions of the software, and can be renewed when it expires. Moreover, you will get access to our NaviSuite eLearning site. With eLearning, you can easily get a thorough introduction to the software and its features. All you need to get started is a PC with internet access.
You will be able to...
Receive survey projects in NaviModel format
Use all the powerful 3D and 4D (comparison of different surveys carried out over time) features of NaviModel when manipulating and analysing data
Generate exports and subsets matching your requirements
... just to mention but a few
Not a national hydrographic office?
This offer is only available for national hydrographic offices. If your organisation does not fall into this category, make sure to check out our trade-in offer, which allows you to get up to 85% off the price of the NaviSuite product(s) that match(es) your current software setup.
Learn more and get your free licence today