How Bibby HydroMap brought innovation to UXO surveying with a multiple EIVA ScanFish setup
---
'In the last 18 months, Bibby HydroMap have been commissioned to conduct several large UXO surveys across Europe – development of our towing setup to incorporate multiple EIVA ScanFish enables us to react to a range of differing client requirements on each project with no loss of efficiency between sites.'
Operations Manager Tom Davenport
Bibby HydroMap
---
Challenge
In December 2017, leading marine survey service provider Bibby HydroMap was commissioned by ScottishPower Renewables to undertake a geophysical and UXO survey across the site of the proposed East Anglia ONE offshore windfarm to ensure that items which could pose a risk to construction operations were identified.
Located off the coast of Norfolk and Suffolk, UK, the East Anglia offshore wind area has been earmarked for future development. East Anglia ONE was the first area to be awarded a licence for development; it covers an area of approximately 200 km2 and is located towards the south of the development area.
Commenting on this background, Tom Davenport, Bibby HydroMap Operations Manager said: 'With many offshore renewable energy sites presenting demanding seabed morphology and significant tidal currents, the challenge comes in the form of how to obtain full, accurate UXO data coverage across the sites, given the difficult conditions often encountered.'
The solution
'Our innovative solution to UXO survey uses a multiple magnetometer array utilising two EIVA ROTV ScanFish deployed simultaneously.'
Using the bespoke hydraulic boom arms of the main A-frame on the vessel Bibby Tethra, Bibby HydroMap utilised multiple ScanFish platforms in a highly original format. Typically, just one ScanFish is operated at a time, but here the project utilised two EIVA ScanFish ROTVs towed in parallel, in conjunction with a high resolution Edgetech Side Scan Sonar.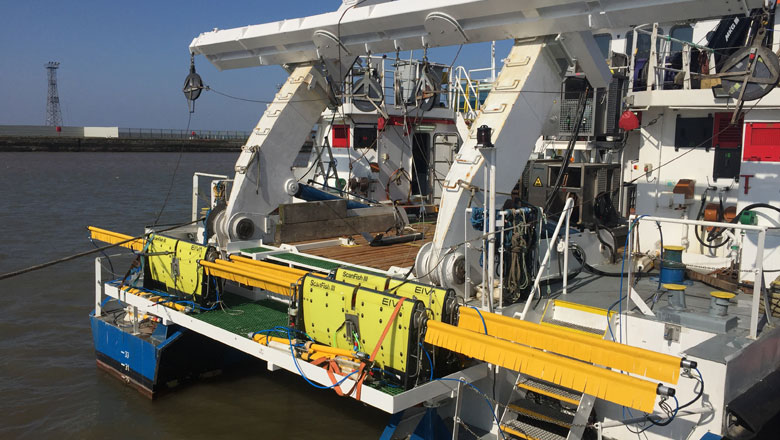 Multiple ScanFish set up for parallel towing, for UXO surveying aboard the Bibby Tethra
Each ScanFish was equipped with four magnetometers over a fixed 5m wing, collecting a dense 12m swathe of magnetometer data in a single pass. In addition, a high-resolution side-scan sonar was utilised to create a detailed image of the seabed to complement the magnetometer data.
In this way, the ScanFish provided a stable platform for deployment of the multiple magnetometer array, allowing for the deployment of two systems simultaneously without the risks associated with independently towing multiple magnetometers.
Commenting on advantages of the setup, Davenport noted: 'The hydraulic boom arm arrangement on board Bibby Tethra allows for fine tweaks to lateral ScanFish positioning without the need for operations to cease. This combination of features allows the collection of high-quality data whilst minimising infill, and therefore reducing operational time on site.'
A deployment and recovery procedure was also developed and adapted using a combination of remote winch controllers and a heavy lift wire to safely deploy each ScanFish from the dive platform located at the stern of the vessel.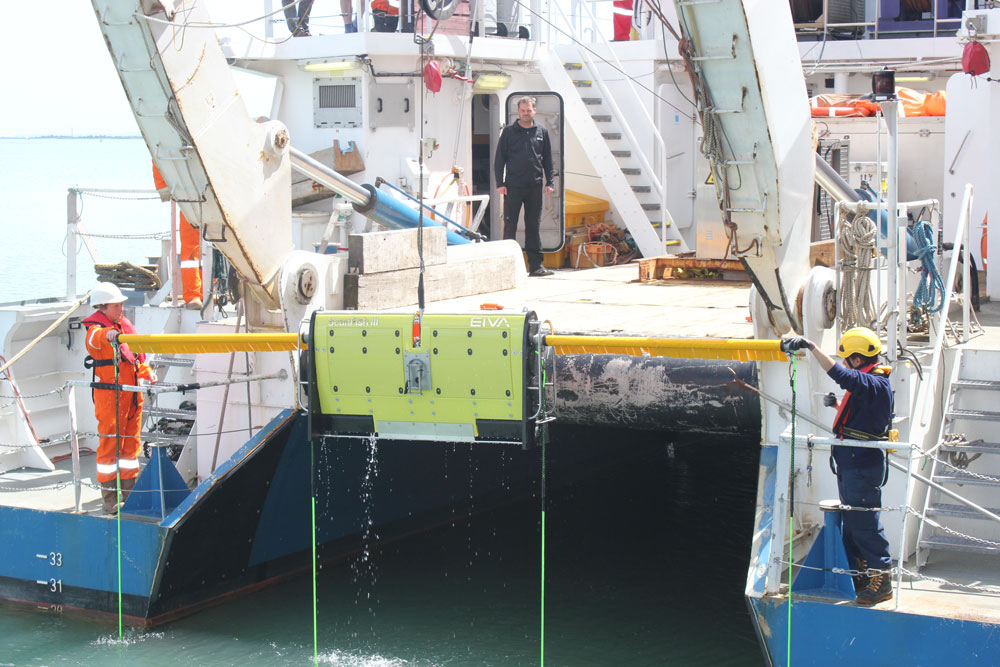 ScanFish deployment from dive platform with remote winch controllers and a heavy lift wire
Special towing arrangement procedures were also carefully developed to maximise operational efficiencies, whilst minimising HSE risks of personnel on site, especially during deployment and recovery of equipment and line turns.
Aside from these novel features of the towing solution, the use of ScanFish itself was not without benefit. As Davenport commented: 'The 'terrain following' mode of the ScanFish is ideally suited to UXO survey operations, enabling the required fixed height above seabed to be maintained throughout operations.'
Since its first use the solution has been successfully implemented and developed throughout numerous subsequent projects on offshore windfarm sites across the UK and Northern Europe. As Davenport said: 'The nature of the setup allows it to be adapted on site depending on environmental conditions experienced, allowing maximum efficiency and high-quality data collection whilst meeting the high specifications set out.'
Results
The project objectives were to provide detailed information on the following:
Seabed bathymetry, morphology and features across the site
Man-made or geological hazards that could impair the installation phase
Seabed conditions or hazards to the installation
Any objects that model as potential UXO
Following the successful data acquisition, all data was processed and interpreted in-house at Bibby HydroMap's head office. Data was appraised and processed in conjunction with a dedicated UXO consultant to ensure that all data met the high quality required for UXO detection.
Reporting on the results, Davenport said: 'Our objectives were achieved using the multiple ScanFish towing configuration developed by Bibby HydroMap. Magnetometer data was collected in conjunction with multi-beam echosounder and side scan sonar data to provide detailed information across the site to the client.'
He added: 'The nature of our bespoke twin ScanFish setup allows us to reduce acquisition time by over 50% compared to a single ScanFish solution. The resulting reduction in the time spent on site offers our clients better value for money, as well as reduced programme impact across the whole project.'
Jeppe Nielsen, CEO of EIVA at the time of writing, commented: 'Cost-effectiveness and the possibility of customisation constitute a key focus for all product development activities in EIVA, as we aim to further improve the competitiveness of our customers. We are therefore happy to see how the flexible Bibby HydroMap ScanFish configuration has succeeded in these areas through the close collaboration between EIVA and Bibby HydroMap in creating this unique multiple ROTV setup.'
According to Davenport, there is a bright future ahead for the use of multiple ScanFish in parallel. He concluded: 'Building on our experiences utilising multiple ScanFish, we see this becoming our standard approach for ensuring large scale UXO coverage is achieved with maximum efficiency.'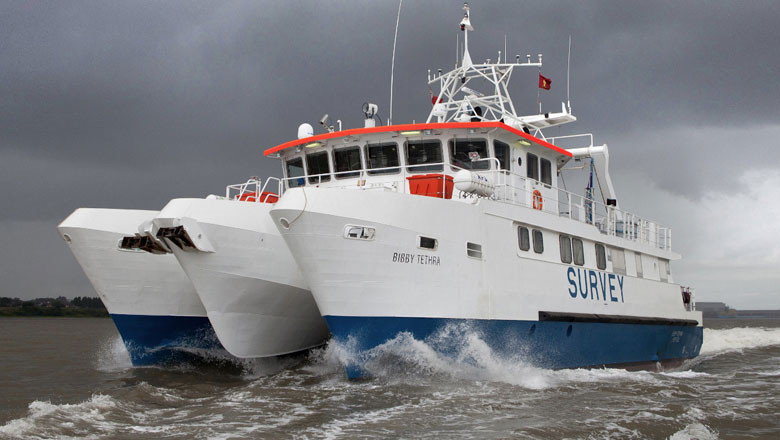 Bibby Tethra parallel towing two ScanFish for UXO surveying
Products in play
EIVA ScanFish Katria​ – The ScanFish Katria is an intelligent wide-sweep remotely operated towed vehicle (ROTV) solution for time-efficient magnetometer surveys
ScanFish Flight software
Bibby Tethra
Facts and figures
In excess of 4500-line kilometres of data collected across four vessels
Total of 387 vessel days across the project
Zero lost-time incidents
446 tool box talks completed
147 safety observations submitted
The £2.5 billion East Anglia ONE will consist of 102 Siemens Gamesa 7 MW wind turbines, giving an overall generating capacity of up to 714 MW, which is enough for over half a million homes