Develop team competencies effectively, conveniently and at a discount with a NaviSuite eLearning corporate account
It's more important than ever to provide cross-trained and multi-skilled personnel. With a NaviSuite eLearning corporate account, your team can train on all existing eLearning modules for EIVA NaviSuite at reduced corporate rates, boosting your skills and competitiveness to get your team shipshape.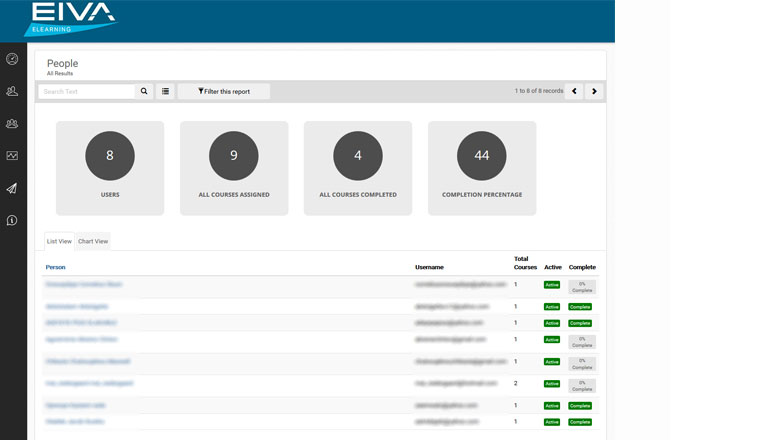 Increase and expand your team's competencies with eLearning
EIVA NaviSuite eLearning is an online tool for NaviSuite users to improve and update their skills through a variety of NaviSuite training modules.

With access to the eLearning site, your team can develop a wide range of competencies – or refresh existing ones – wherever internet access is available.
Your account will grant your team access to the entire range of eLearning training provided by EIVA. This includes immediate access to new training modules as soon as they are released, keeping everyone easily up to date with new software developments and improving your team's efficiency and adaptability.
Insight and metrics on your team's training
The corporate NaviSuite eLearning account offers all the same benefits as a standard eLearning account, along with additional features built with company-wide training in mind.
With a corporate account, designated team leaders can use dashboards and reporting tools which offer real-time insight and overview on how their team's training is progressing.
Team leaders can also pull ready-made reports concerning module results and participation, or create their own reports to meet customised specifications.

With these tools, it is quick and easy to keep appraised of your team's development.
Sign up now for your corporate discount
EIVA will generate the account and invoices on an annual or monthly basis, depending on what suits your company best.
With a corporate account, the signup and renewal fee are the same, with the discount depending on the number of users in your team:
4-99 users: € 110/person
100 or more users: € 95/person
Have a question or just want to hear more?