Who is EIVA?
EIVA is a Danish engineering company with over 40 years' experience in development and delivery of solutions to offshore and shallow water engineering and survey industries.
We provide software, equipment, and integrated system solutions to maritime players around the world, delivering proven and reliable tools to support everything from oceanography and hydrographic surveying to offshore construction, cable laying, dredging, rig operations and more. Our solutions sail at the cutting-edge of technology, enabling remote and autonomous operations using automation and AI.
Alongside hardware rental services, we offer expert 24/7 technical support, educational resources and software training to maritime stakeholders.
Guiding our solutions out to sea
With an increase in maritime operations around the world, we recognise that there is a clear need for innovative and cost-effective solutions to streamline the operations of groups specialising in the opportunities offered by a blue planet.
At the same time, with consideration for the environment now more important than ever before, we must ensure that exploring maritime opportunities does not come at the expense of the natural world.
We understand the challenges that our customers face, and we know that working closely with them to find, develop and implement the right solution in a timely manner is key to their business activities.
Recognition of these circumstances is present in all of our work; providing us with principles to shape our ambitions, and guidelines to ensure that the only solutions we put out to sea are the ones we stand behind.
Advancing maritime technologies
EIVA has been a leading player in the maritime industries for some time, and we have witnessed immense technological change over recent decades. Always seeking to embrace the possibilities of cutting-edge applied science, we have a strong track record of investing wherever necessary in pursuit of refining our solutions, developing new ones and pushing the boundaries of maritime technologies.
A global customer base and workplace
Headquartered in Stilling, Denmark, we have bases in Germany, Singapore, Brazil, Romania, Philippines and Scotland – as well as formal representatives situated in over twelve countries. With this reach, EIVA personnel work to provide solutions to a global customer base comprised of companies, organisations and academic research institutions involved at varying levels with the international maritime industries.
Certificates and compliance
EIVA is certified by BVQI to ISO 9001:2015 quality management systems requirements.

We adhere to the EU GDPR with respect to all relevant data, including that gathered via the eiva.com website, job applications, public events hosted by EIVA, etc.
Ownership
EIVA is part of the Covelya Group, whose purpose is to apply engineering excellence and innovation to enable a safer, more sustainable world. Like EIVA, our sister companies operate in the maritime industry, in a wide range of sectors within the energy, science, defence and commercial markets.
By combining the technologies and expertise of each company in the group, we are able to offer our customers advanced system solution combining technologies from across the group. Learn more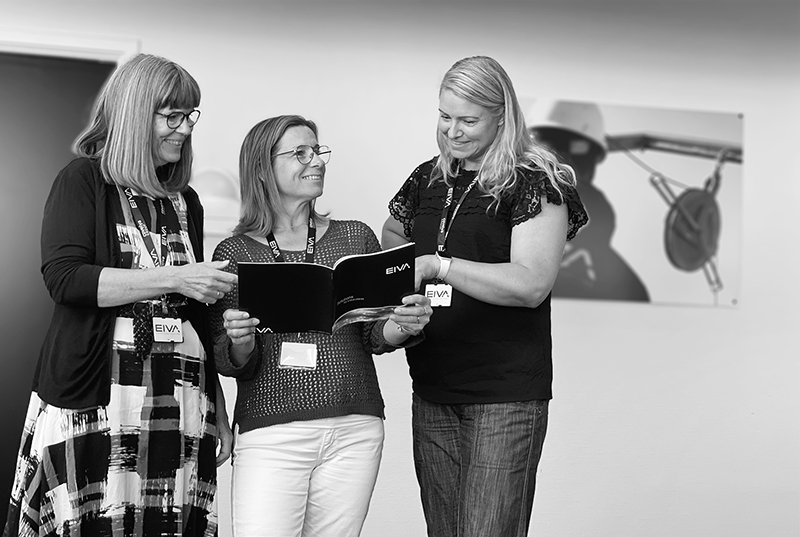 Working at EIVA
Interested in joining the EIVA crew? Then have a look at our opportunities for employment and learn about submitting an unsolicited application.
High-end, innovative technology
Inspiring, international environment
A market leading company with global reach