How ghost gear is haunting our oceans
---
'Green-Bay Project has received invaluable help from EIVA, and we really appreciate the constructive support. We continuously add technology to our workstream and our efforts toward a better coastal environment and the sustainable use of marine resources. EIVA's NaviSuite software seems to be the best platform for integrating our survey data, subsea operation, and vessel instrumentation, and we are really happy that we can do that under the current agreement.'
Project Manager Tord Aslaksen
Green-Bay Project
---
'As a member of the maritime industry for over 40 years, providing software, equipment, and integrated system solutions to businesses all around the world, our consideration for the environment is higher than ever before. We must ensure that exploring maritime opportunities does not come at the expense of the natural world, which is why when an opportunity to support projects such as Green-Bay come along, we like to support them with free NaviSuite licences.'
---
The challenge of removing ghost gear from the sea
Ghost gear refers to fishing gear that has been abandoned, lost or discarded at sea, and ghost fishing occurs when ghost gear continues to catch fish and other marine life long after it has been lost. This includes nets, lines and traps. Ghost gear can be dragged around by currents and storms for many years catching marine life and damaging habitats. According to a ghost fishing report by the FAO (Food and Agriculture Organisation of the United Nations), several hundred thousands of tonnes of fishing related debris are estimated to pollute the seas globally.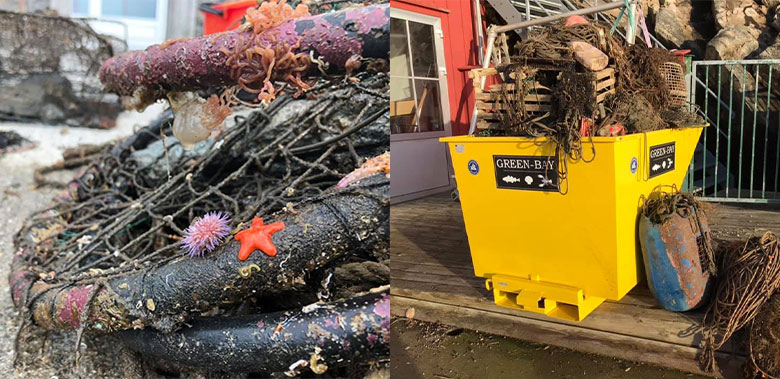 A small sample of fishing gear polluting the ocean which has been recovered and brought to shore – image courtesy of Green-Bay
In the past, fishing equipment was made of materials produced naturally in the environment that would break down organically in the water. In modern times, most fishing gear is made of tough, synthetic nylon, which can take centuries to break down.
'Plastic fishing gear makes up a large proportion of marine waste, which over time disintegrates into microplastics. Researchers do not yet know enough about how the effects of microplastics impact the various links in the food chain.' – Tord Aslaksen
Ghost gear traps and entangles marine life along much of our coasts, and unfortunately, more often than not, those caught die as a result. The deceased then become bait which attracts more individuals to suffer the same fate. As a result, fish, shellfish, seabirds, and marine mammals are subject to hidden population loss, as well as fishing stock and threatened species. Alongside the underestimated loss of marine life, ghost gear tangles propellers, snags on rudders, and in large amounts can block waterways and shipping lanes, creating hazards and making navigation difficult.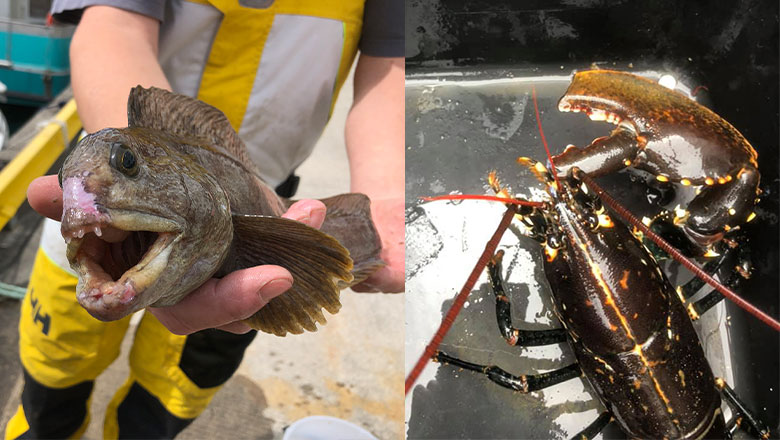 A wounded wolffish and a lobster who lost its claw after getting caught by ghost gear – image courtesy of Green-Bay
Green-Bay is a non-profit organisation whose purpose is to work for a better marine environment and to promote the sustainable use of coastal waters. They work as an independent partner with the Norwegian Institute of Marine Research (IMR), and receive support from the Norwegian Environment Agency and Retailers' environment fund. Green-Bay is involved with several operations that clear the ocean of ghost gear along Norway's coast. More specifically, they work with method management and consulting in marine environmental projects where they aim to acquire more knowledge, develop new clean-up techniques and inspect other clean-up operations.
Keeping the sea clean with the help of software
To track down ghost gear, Green-Bay cooperate and exchange information with diving clubs and fishing associations in the areas they are working. Furthermore, they attend community meetings and work with volunteers to collect information locally. The Directorate of Fisheries has released an app 'Fritidsfiske', where lost fishing gear can be reported, which has proved a valuable resource to the operation. Through their work, the Green-Bay Project have established criteria to determine where and why fishing gear is lost just by analysing maps of the area.
Green-Bay plan and document efficient clean-up operations by utilising data from multi-beam sonar surveys to create maps and models of the underwater environment. Simplifying navigation during the location and recovery of ghost gear is crucial in the rugged Norwegian terrain. Models of the seabed are created with processed data from the Kongsberg EM 2040 multi-beam echo sounder. Green-Bay also has access to maps from a fishing fleet which survey with the Olex Atec multi-beam sonar. Permission for data collection comes from the Norwegian Mapping Authority, who handle the applications on behalf of the Norwegian military command.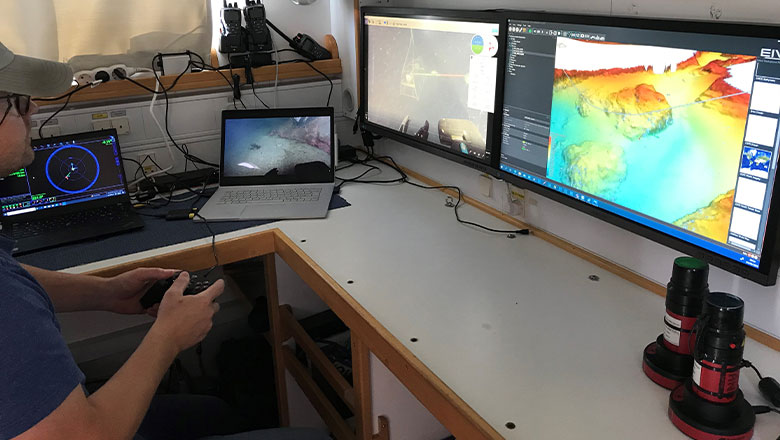 Real-time ROV positioning in NaviPac Pro Helmsman's display with Sonardyne's Nano transponder
As part of EIVA's support for the project, Green-Bay has been given a free NaviSuite licence which includes NaviPac Pro – acquisitioning software that provides positioning and navigation features for surface and subsea vehicles. They specifically use the Helmsman's Display feature, which allows for the monitoring of clean-up operations and supports the display of vehicle data (main vessel, underwater vehicles and remotes). They import multi-beam sonar data and point clouds into the software which is then used for navigation, with positioning coming from Sonardyne's Nano positioning transponder paired with the Mini-Ranger 2 USBL, to track and navigate their main vessel, towfish, divers and ROVs – Deep Trekker's DTG2 and Nido Robotics Sibiu Pro. The system is installed on the survey vessel TYRA in cooperation with the Norwegian Institute of Marine Research (IMR). Green-Bay find NaviPac Pro very useful for mission planning and visualisation.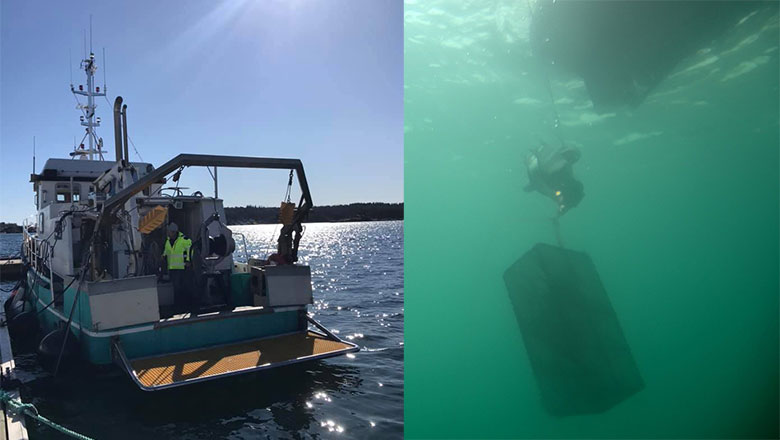 Recovering a lobster pot with an ROV from the back of the survey vessel TYRA – images courtesy of Green-Bay
After sending in the ROVs and divers to recover the ghost gear, a large part of the solution requires Green-Bay focusing on building a community network with locals, and recreational and professional fishermen. They build public confidence in their mission by returning fishing gear to its owner whenever the owner can be traced.
'Society must return to sustainable practises, where the farming and harvesting of marine life does not inflict unnecessary losses and suffering. Everyone who fishes should do it responsibly by knowing the conditions of the seabed, setting out gear made from biodegradable material and using equipment with a mechanism that makes it inactive upon loss.' – Tord Aslaksen
Results of the clean-up operation
From the start of the project in 2018, Green-Bay has recovered more than 2,000 pots and traps, and several kilometres of fishing nets, lines and gillnets. The seabed of a new lobster sanctuary in Lillesand municipality was cleared in 2018 and 2019. 157 lobster pots were recovered from around Saltholmen lighthouse in a single survey during three days in may 2019. In addition, several boat wrecks and other marine waste have been removed from the ocean.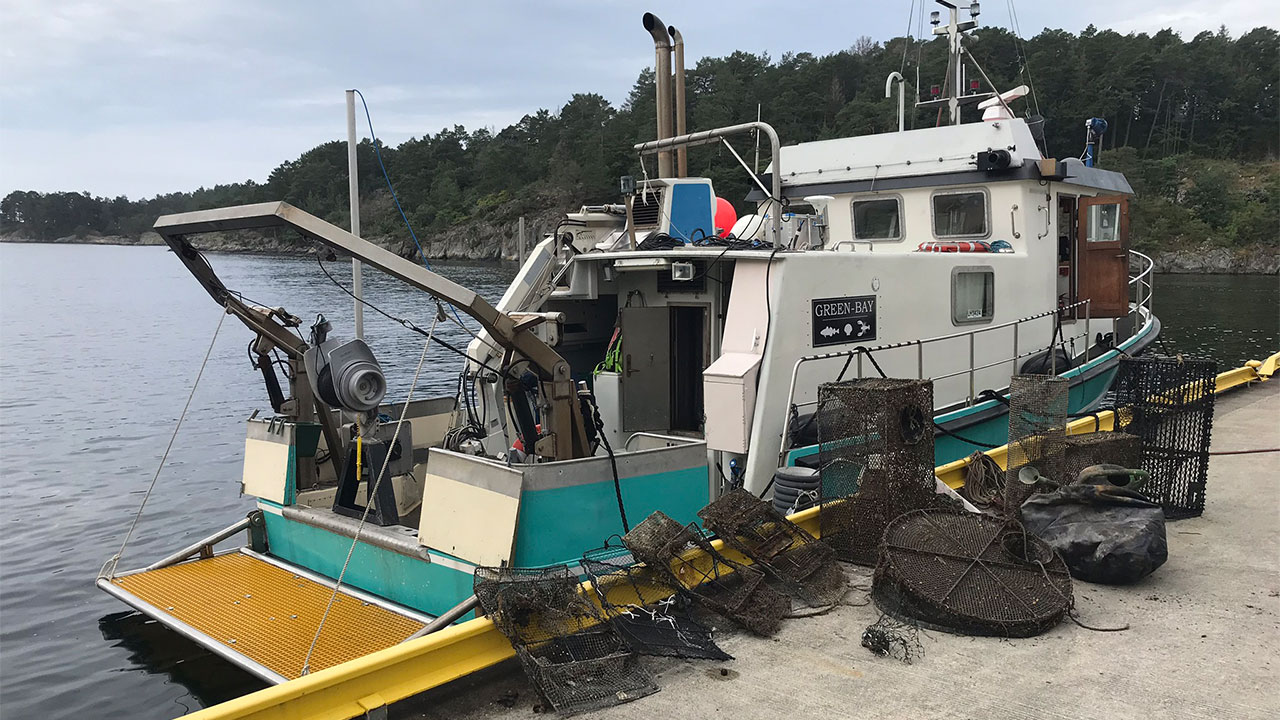 Ghost gear recovered from one outing onboard the vessel TYRA – video courtesy of Green-Bay
Products in play
Facts and figures
Several hundred thousand tonnes of fishing related debris are estimated to pollute the seas globally
The Green-Bay Project's clean-up operation has lasted three years to date and is funded one year at a time. The next three years are in a planning phase as per January 2021, but operations are going on continuously.
The software was installed onboard the survey vessel TYRA
Green-Bay have recovered more than 2,000 pots and traps, and several kilometres of fishing nets, lines and gillnets
157 lobster pots were recovered from around Saltholmen lighthouse in a single event during May 2019.
If you want to know more about the project, check out Green-Bay's website or follow them on Facebook.