1 operator plus 4 hours of mobilisation and surveying equal extensive and detailed survey results in NaviSuite Kuda
EIVA participated at a Renishaw demo day in Singapore, which included preparing and conducting a LiDAR/MBE harbour survey with our NaviSuite Kuda software. The demo proved the capabilities and cost-effectiveness of the solution.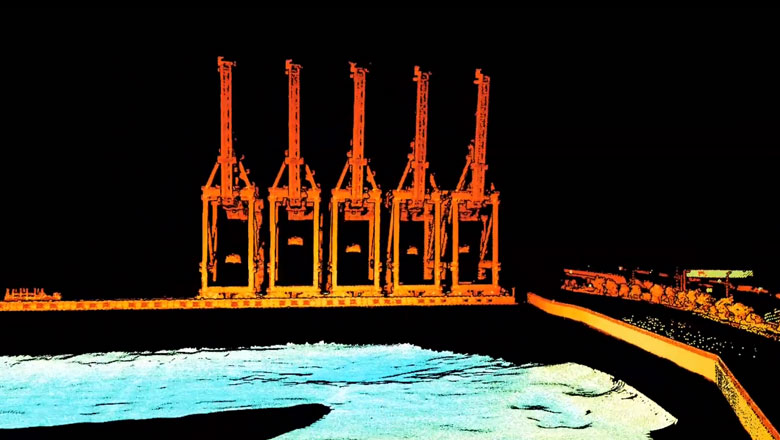 Preparing and conducting a LiDAR/MBE harbour survey with NaviSuite Kuda at the Renishaw demo in Singapore
The EIVA NaviSuite Kuda software solution allows you to apply laser/LiDAR scanner data throughout the acquisition and processing workflow of data from shallow water survey operations. Moreover, this can be done in combination with multi-beam echo sounder (MBE) data (along with many other sensor types).
Users thereby benefit from the complementary features of different technologies and are able to carry out data acquisition both above and below water level in a single pass.
Sailing the talk – Software and hardware living up to what is promised
A demonstration of NaviSuite Kuda's capabilities was made in August 2017, when Renishaw invited EIVA to take part in their demo day in Singapore. Among others, their Merlin LiDAR was in play at the event.
The Renishaw Merlin LiDAR is dedicated to survey operations in marine environments. Merlin offers extensive point clouds with 1-centimetre accuracy for better data analysis. Moreover, it is one of the 500+ sensors that integrate seamlessly into the NaviSuite products.
All of the above were proven in practice at the demo day:
One operator spent only two hours setting up the software, interfacing it with not only the Merlin LiDAR, but also a Reson SeaBat 7125 multi-beam echo sounder and the positioning equipment on board the vessel. After less than two hours spent on carrying out the survey, and 10 hours on processing the data (including patch test), the end-result was as seen in the above video: Extensive and detailed data, even for objects scanned at a distance.
Fly-through option ensures high-quality delivery to end-clients
The video is made with the fly-through presentation feature of NaviModel, one of the components of NaviSuite Kuda. With this feature, you can sum up the results of your surveys to the end-client in a visually effective and extensive presentation.
Moreover, a NaviModel Free Viewer is available for download on our website. This allows you to include it in your delivery, thereby providing a more comprehensive service to your customers by enabling them to navigate the data you collected themselves.
Applications of LiDAR/MBE surveys with NaviSuite Kuda
Quayside maintenance
Beach terrain models
Inspection of piers
... just to mention a few.
Products in play
NaviSuite Kuda – Affordable software with deep feature list for shallow water surveys
Renishaw Merlin LiDAR – A marine LiDAR system developed specifically for cost-effective coastal, offshore and inland waterway surveying
Teledyne Reson SeaBat 7125 – Ultra-high resolution multi-beam echo sounder