How EIVA's software development team delivered handy tools for optimising trenching cable routes
---
'We are happy with the easy-to-use trenching tool EIVA developed for us – and so are our clients. This tool saves time and helps with the decision-making process of seabed trenching planning.'
Survey Manager Gordon Brown
Andrews Survey
---
The challenge of designing cable routes
One of the many things to consider when designing a cable route, is whether a trencher can safely travel along the design route. If this is not taken into consideration, the trencher could get stuck or tip over, wasting time and potentially harming expensive equipment.
What if there was a software that would allow you to check if a trencher could travel safely along the cable route design? That is what Andrews Survey , a company specialising in construction and trenching survey support, were looking for. When faced with this task, they 'immediately thought of EIVA,' said Survey Manager Gordon Brown, 'as NaviModel has powerful 3D modelling capabilities and already supported cable route design'.
NaviModel is a software tool that can be used to create high-performance digital terrain models (DTMs) in 2D and 3D. It features several high-tech tools for data analysis, modification, interpretation and QC. At the time of this project, NaviModel supported the planning of cable and pipe routes on a DTM as well as planning trenches with a defined burial depth – but not whether a specific trencher could travel along the terrain.
Developing a custom software solution
When Andrews Survey reached out to EIVA, our software development team set course towards a solution. Working together with Andrews Survey and their end client, we created a trenching tool, integrated within NaviModel.
For Andrews Survey, custom EIVA software development had many advantages, including that they can access the custom trenching tool in a software they already regularly use – NaviModel. This meant there was no need to distribute new licences, download a new program or train their employees to use a new program.
At EIVA, we are happy to create custom solutions like this, since we benefit from our customer's industry experience, which helps us develop and test our solutions, so they work just as well out in the field as in our tests. Survey professionals are always welcome to reach out if interested in creating a tailored software solution.
Overview of where the trencher can(not) operate
Using 3D modelling, the NaviModel trenching tool simulates how the trencher will move along the terrain. All it needs is a model of the trencher, a digital terrain model and your cable route.
While simulating the trencher moving along the cable route, the software calculates the pitch, roll and heading of the trencher everywhere along the route. If there are any areas where the pitch/roll/heading of the trencher is too high to move safely, the software displays this in easy to read, graphical views.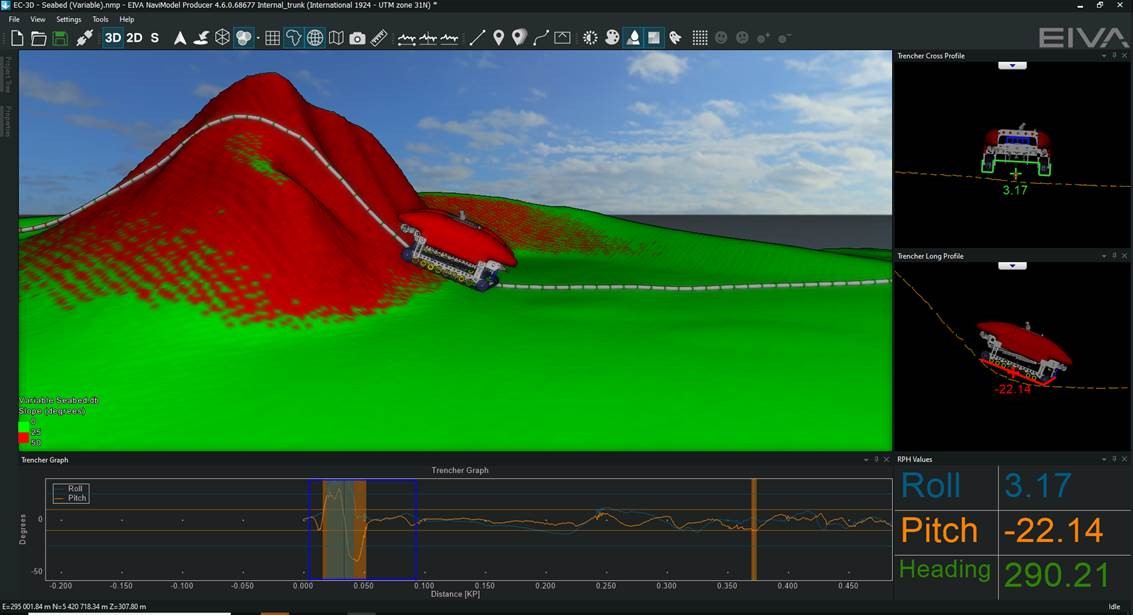 You can see where and why there is a problem with the route in the other widgets: Trencher Graph (at the bottom) and the Cross and Long Profiles (on the side)
Designing trencher-friendly cable routes
The trenching tool not only displays the problems with the cable route, but you can adjust the route in NaviModel and see how it affects the problem areas immediately.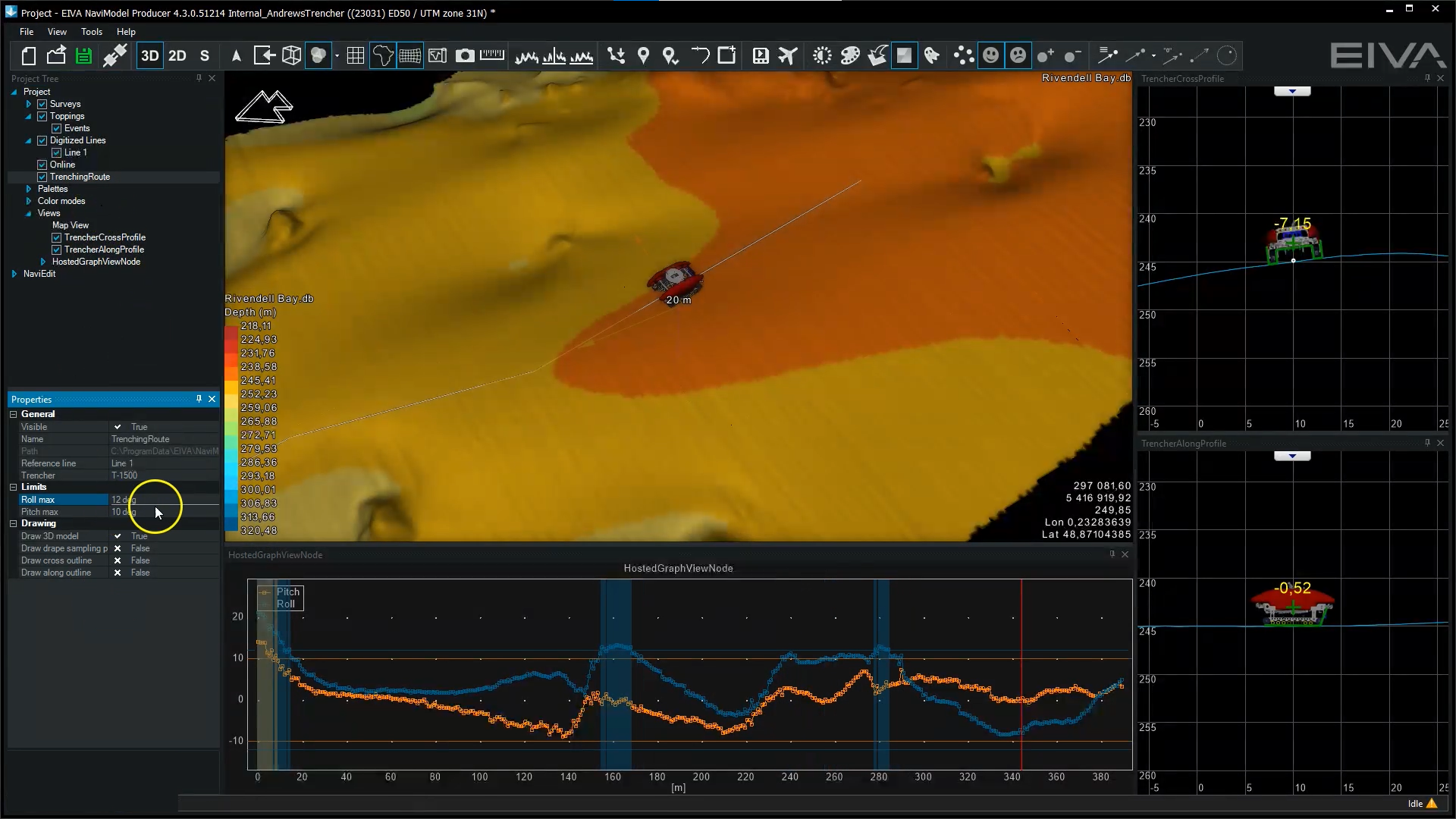 In this video, showing the trenching tool in action, watch as the cable route is adjusted to make the route optimal for the trencher to drive along
This helps engineers design the optimal cable route, eliminating or reducing any challenges to trenching. In some areas it is simply not possible to trench completely safely, in which case, the tool can be used to identify areas where the trencher operator should be warned.
Trenching tool saves hours and hours of time by making for better decisions
'Hours of project operational time can be saved by using the tool to assess trenching routes,' said Gordon Brown. Andrews Survey has used the tool in several projects for various applications, including pre-trenching route analysis and analysis of areas after trenching for remedial trenching passes.
Both Andrews Survey and their end clients have been happy with the results. The trenching tool provides a clear way to explain the situation to their clients, so they can make the best decisions based on that knowledge. End clients can also view the project in NaviModel on their own – at no extra cost. This is because it is possible to view NaviModel projects with NaviModel Viewer, which can be downloaded for free.
Ready-to-go for future projects
'Now that the tool is part of NaviModel, we can use it whenever a project comes up for which we need it. Since the tool is intuitive, and we already use NaviModel regularly, it doesn't require much instruction for our surveyors to learn to use the trenching tool when a project calls for it,' said Gordon Brown.
By using one software system for all your needs, you can reduce errors and training requirements. This trenching tool is incorporated into NaviModel, which is just one of many solutions in NaviSuite, a complete software package for virtually any subsea task. Our software solutions cover your needs all the way from navigation and acquisition to processing and analysis. NaviSuite software solutions can be purchased in bundles, providing all the tools you need – for the specific type of subsea operation you perform. One such bundle is NaviSuite Beka, which is specialised for anchor/riser handling and cable/flexpipe lay operations.
With our complete and specialised software bundles, as well as custom software development in NaviSuite, you can reel in the full benefits of using one streamlined software package for all your subsea tasks.
Products in play
Custom software development – tools for simulating trenching were developed and are now available in NaviModel
A short history of cable route features in NaviModel
In 2010, our first software tool dedicated to cable and pipe was implemented: a depth of burial capability, which we developed with various construction companies
In 2017–2019, cable route design capability was developed with a market leading sub-sea cable installation company
2018–2019, trencher design capability was developed with Andrews Survey
Watch our advanced cable route planning tool on YouTube.