NaviSuite Kuda Core setup, use and processing
Conducted by:

Product no :

20230837
13-15 Feb 2024 Virtual training
Venue & Language
The course will be held virtually, via Microsoft Teams and will be conducted in English
Duration and timing
The duration of the course is 3 days with training of the group taking place from 8.00 – 15.00 GMT. (9.00 - 16.00 CET)
Entry requirement
A basic knowledge of hydrographic surveying concepts is needed with regards to geodesy, sensors, point clouds and digital terrain models, patch testing etc. Unless otherwise agreed, the training will be conducted in English, so a good knowledge of the English language is expected from the participants. We recommend that participants pass the following EIVA eLearning modules prior tot eh start of the course:
NaviSuite Kuda Core 4.6 Configuration, Sailing and Survey Essentials
NaviSuite Kuda Core 4.6 Data Processing Essentials
EIVA eLearning
Access to EIVA eLearning for 30 days is incl. in the course fee to allow the participant to prepare for the course and continued access for an additional 12 months can be purchased at the reduced price of €110 if purchase is made before the free EIVA eLearning account expires
Having passed specific EIVA eLearning modules prior to the start of the course is not a requirement for this course, but we recommend a general walk through the previously listed modules. and continued access to the modules after the course to serve as both course notes and a place to look up information
Training days
Day 1: Kuda Core Config and Kuda Core
Days 2&3: Kuda Core data processing and Patch Test
Learning objectives
The virtual course is structured around a curriculum to give the training course participants a step by step walk through Kuda Core, the most elementary NaviSuite package aimed for hydrography. The purpose is to take new EIVA NaviSuite users from configuring their vessel to planning a survey and then patch test and process a harbor dataset with MBE and LiDAR
During the course, participants are guided through how to:
Install and understand the architecture of the NaviSuite Kuda Core software package
Configure a Kuda Core vessel setup with sensors, geodetical settings
Set up autopilot commands
Understand the User Interface for sailing and survey
Plan surveys
Control the sensors from Kuda Core
Visualize online data
Sail and control the vehicle
Use IP cameras
Remote Control
Import data after the survey
Patch test the multibeam
Process and clean the data into DTMs and point clouds
Calculate volumes
​Target group
The course is aimed towards surveyors who have some experience with hydrographic survey work
Certificate
An EIVA NaviSuite training certificate is issued to each trainee upon completion of the course
Access to NaviSuite
EIVA NaviSuite Kuda Core can be downloaded from our website for preparation purposes and Kuda Core can run in demo/simulation mode if no port is selected after adding an instrument in the configuration window. Activation codes for full access and activation of the relevant NaviSuite software (NaviSuite Kuda Core + Processing) is provided for each participant for 30 days as part of the course fee
Technical information
The participant must have a stable internet connection (preferably via LAN) to run Microsoft Teams smoothly.
Minimum PC specifications:

OS Windows 10 Pro edition
8 GB Ram as a minimum
20 GB disk space
Graphics board 1GB Ram
The user must have administrative rights over the PC

Other requirements:

A mouse with scroll function
A headset
2 x monitors (one to view the training and one to perform the tasks)
Further details about the hardware and software specs can be found here
Securing your seat
There is room for up to 8 participants at our virtual training courses and your seat is secured once we have received your payment. We only accept orders that are paid by credit card in our webshop
For further information, please do not hesitate to reach out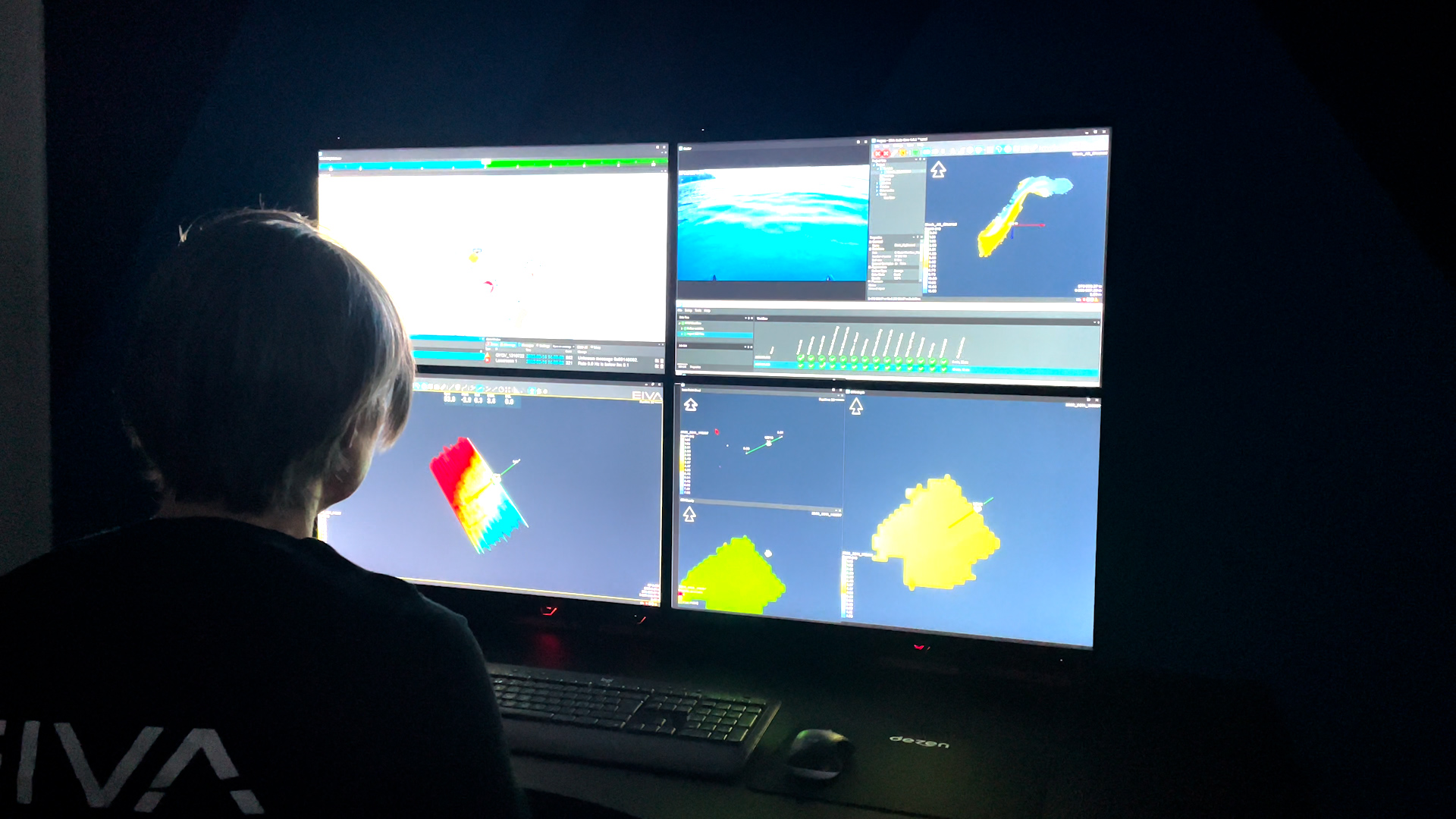 Want to attend free webinars?
The ongoing EIVA LIVE webinar series keeps you up to date on our latest software and hardware developments – with the possibility to dive deeper and ask our experts questions. Past webinars have showcased solutions such as our autopilot and software for autonomous hydrographic surveys, as well as new automated ROV inspection modes.