Then you might be EIVA's new DevOps engineer!
EIVA is a hardware and software engineering company which provides solutions for subsea applications. Our customers specialise in renewable energy, oil and gas exploration, seabed-to-surface construction and hydrographic surveys, just to mention a few.
Our software, NaviSuite, is among the most utilised and high-end in the industry, known for its versatility and efficiency. It supports navigation, as well as data acquisition, processing and analysis for a wide variety of vessel types – and we are constantly integrating new technologies like AI to enable low-carbon, remote and autonomous operations.
To keep up with the strong wind in our software development team's sails, we are on the lookout for a DevOps engineer in charge of our internal SCM systems, software development infrastructure and dependencies, as well as assisting with DevOps pipelines and automated testing.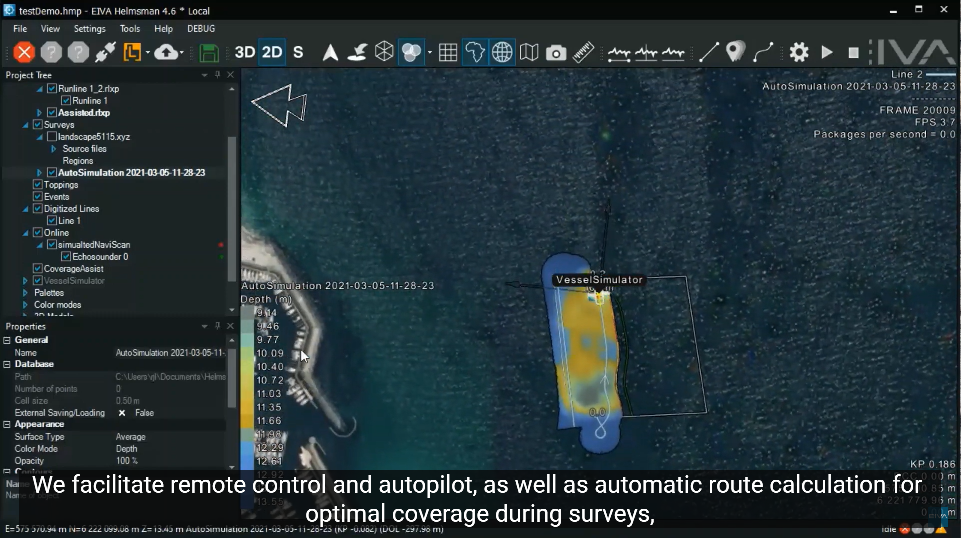 In this video, you can see some NaviSuite software tools in action – including NaviPac's autopilot coverage assistance tool and NaviSuite Deep Learning for image recognition and enabling autonomous navigation
Your responsibilities will include…
Maintaining internal SCM systems such as Git and SVN server, on-premise Azure DevOps server(s) and servers hosting related infrastructure, including build agents
Develop and maintain software development infrastructure, such as docker containers, build agents and package management systems
Upgrading dependencies and managing dependency conflicts for packages in use
Working with software developers and software engineers to develop DevOps projects and pipelines
Assist in developing automated testing as part of the build and release process including continuous integration (continuous delivery)
Server and cloud software releases – including configuration and deployment using VPN, Yocto etc
The ideal candidate…
Has experience as a DevOps engineer or similar software engineering role – specifically hosting, configuring and using Microsoft Azure DevOps for continuous integration and delivery, including creating and maintaining build and release pipelines.
Is experienced in both Windows- and Linux-based systems
Holds a relevant degree such as computer science or engineering
Is proficient with Git including SCM knowledge of Git LFS, SVN and development of commit hooks
'speaks' various scripting languages Bash, PowerShell and Windows shell scripts – knowledge about yaml is an advantage, including Docker, Kubernetes
Can use C++, C# and Python for software development and test frameworks, including knowledge about VisualStudio, MSBuild and CMake
Understands various package management systems such as nuget, vcpkg, pip/setup.py, Conan and Conda – including package development and handling dependency issues as part of the build process
Knowledge about software testing and release management, including installer frameworks, is an advantage
We operate in a niche industry, so don't worry if you're new to the maritime world, we'll equip you with the necessary introduction before you're thrown into the coding waters.
You'll be working out of EIVA's offices in Stilling, Denmark – just one minute away from the E45, 15 minutes away from Aarhus by car, and easy to get to by bus.
The ideal candidate also…
Finds it interesting to work in an international environment with very technical products and direct contact to customers
Likes to have many project ships at sea at the same time
Enjoys working in a company where his/her plans for the day can quickly change, overruled by new high-priority tasks in connection with for example customer downtime
Possesses strong English skills, both verbally and in writing
When you're part of the EIVA crew…
… you're part of a company with a very informal and open workplace culture where it is possible to make your mark if you see undiscovered opportunities. We work with high-end, innovative technology in an inspiring environment where freedom under responsibility is a key parameter.
We value a proper balance between work and private life; something reflected by the 15th, 20th and even 35th anniversaries commonly celebrated. We offer various benefits such as a pension scheme and health insurance, a canteen that no one leaves with an empty stomach, and a very active social calendar.
Ready to dive in?
If we have caught your attention, send your application and CV to eiva@eiva.com. Please include 'DevOps engineer' in the subject line of your email.
All applications will be handled with discretion. Interviews will be held immediately, with the new crew member starting as soon as possible.
For further information, please contact VP Software Development Ole Kristensen at okr@eiva.com or call him at +45 4046 9149.