How EIVA brought 3D clamshell software to users of Trimble's GCS900 grade control solution for excavators
---
'NaviSuite Uca has been a great tool for our operators to use during dredging operations with 3D mapping visualisation. In addition, it has streamlined our post-processing of quantity data in the office. It is a simple, powerful, and user-friendly program. We are very happy with the results.'
GPS/Surveyor Technician Britton Lawson
Veit
---
Challenge
Veit, a US-based specialty contracting firm that uses Trimble software and hardware on their wide-ranging excavation and dredging projects, found themselves in need of 3D software visualisation in an upcoming dredge project on Superior Bay in Duluth, Minnesota.
Veit is a long-time Trimble user, but was looking for a more visual, 3D software solution dedicated to dredging. Using a bucket solution in the past, but wanting to try a clamshell-type dredging bucket for future work, Veit contacted EIVA through their North American partner, OARS-HPSG in Austin, Texas, looking for something that would represent the clamshell's position and progress in real time.
Solution
That something was to be found in the EIVA software product portfolio in the form of NaviSuite Uca, a 3D software solution dedicated to dredging operations through integration with the Trimble GCS900 Grade Control System for excavators.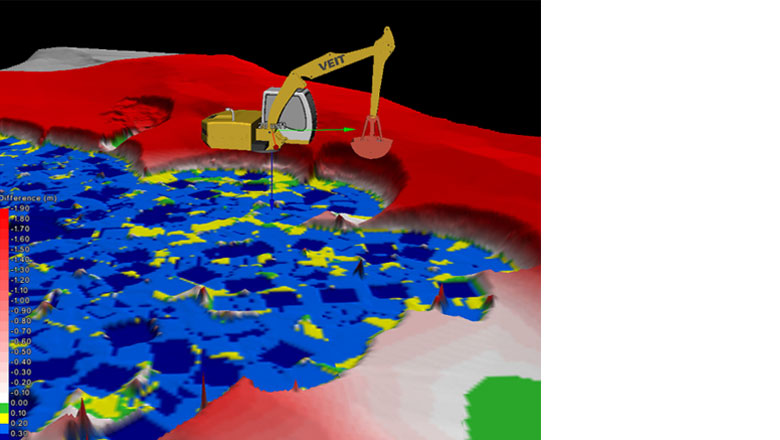 NaviSuite Uca screenshot with clamshell attachment
On previous projects, the Veit operators had a limited view of the project area and their progress. With NaviSuite Uca, they get 3D visualisation, manipulation, and real-time digital terrain model (DTM) features.
Before the Veit project, NaviSuite Uca did not support clamshell bucket types. However, EIVA already had a proven track record with Trimble GCS900 bucket operations, so the integration to support a clamshell was part of the natural progression.
Time was a large factor in this integration as the project start date was fixed. Also, there was a period of testing and verification that Veit wanted to do before sending the excavator to the job site.
The integration was handled in three basic steps:
Physical integration of RS-232 communication from the Trimble CB460 control box

Integration of the ASCII string from the GCS900 Control Box to logging PC

Integration of clamshell mapping and visualisation into NaviSuite Uca
Visual tracking and reporting of sub-surface progress
Previously, the operators had limited views of what was going on below the water surface. They could see the current position of the bucket and the planned depth displayed as a line, but there was no clue as to what the dredged surface was. The result was that there were areas left behind (above grade) or missed altogether. This would cause expensive re-mobilisation efforts and lost time due to re-work.
This issue was solved with NaviSuite Uca. In addition to viewing the dredged surface as digital terrain models in real-time as the work is being done, the operators can export these DTMs as progress reports to the office while on the job. Previously, DTM manipulation and export were not available so NaviSuite Uca has saved Veit time internally in regards to project tracking.
As the project progressed, condition surveys confirmed that the depths from the calculated NaviSuite Uca surface agreed with the sounding data collected by the survey crew at bi-weekly intervals. These condition surfaces can be loaded into NaviSuite Uca and the progress of the project over time can be seen using the 4D feature for DTM comparison.
Result
Veit's project is underway and they are very happy with the progress tracking, 3D visualisation, and mapping available in NaviSuite Uca. The results are better, cleaner looking, and more accurate than anything else they have worked with. Now, Veit is looking at installing the solution on more of their other excavator systems in the future.
More customised solutions for dredging
Veit was interested in adding sensors to their clamshell bucket to sense bucket open-close and rotation. At the time, the configuration of NaviSuite Uca's clamshell integration could tell when the bucket was open, so it altered the existing DTM assuming that the operator closes the clamshell every time.
Since there is opportunity for error if the operator does not close the clamshell, the support of bucket open-close feature was developed and made available on all clamshell dredging setups. This is not only in response to customer demand, but also in alignment with special US market requirements by the US Army Corps of Engineers.
Moreover, Veit encouraged communication between the clamshell manufacturer, Anvil Attachments, and EIVA to produce a custom 3DS model with the proper size and scale of the existing excavator. EIVA continued to work with Veit and Anvil Attachments to integrate and support a tilt and rotation sensor to the clamshell bucket.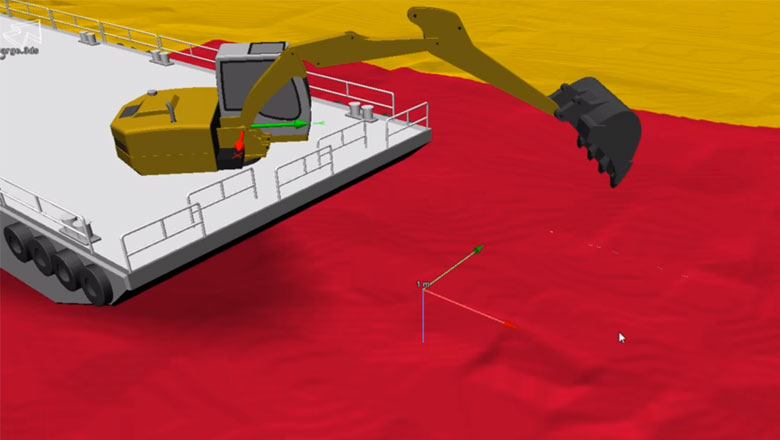 EIVA NaviSuite Uca - Plug and play 3D software for dredging operations
Products in play
NaviSuite Uca – 3D dredge monitoring software for use with Trimble GCS900 Grade Control Systems for excavators
NaviPac – Navigation and positioning software
NaviModel – Data cleaning and modelling software
Facts and numbers
Report production that normally took 3 hours can be done now in 1.5 hours with better products. This is a 50% time improvement over previous methods.

Sensors already interfaced: Trimble GCS900 with CB450 or CB460 Control Box.

Sensors to be interfaced: Tilt sensor on clamshell for open/close status and rotation sensor for clamshell rotation position.